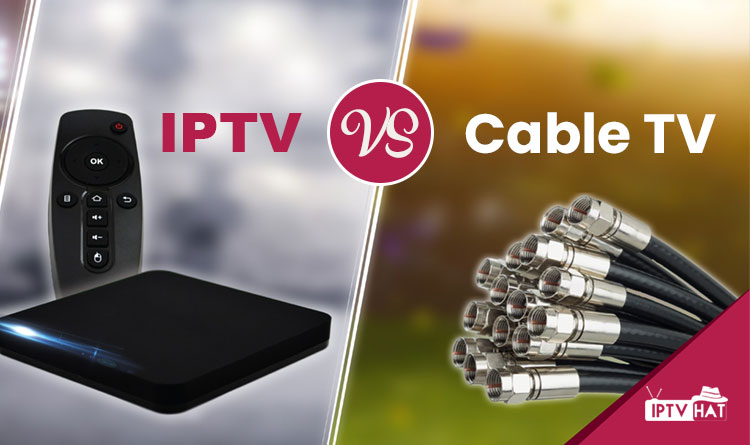 Which one is better? Is it cable or IPTV?
IPTV is the newest thing on the block. Internet protocol television is promising to replace the old TV formats. IPTV comes with many features, and sometimes, it might seem like the most affordable choice. But, can IPTV defy cableTV, which is still dominant in the mainstream? Cable has been here for a while and people love it. IPTV vs. cable TV, which one is better?
This is the question we're set to answer in this blog post. We will compare the two TV formats from a few angles, including accessibility and budget. At the end of the post, we will decide which one wins the battle according to us.
We will run a comparison between the two of them to decipher which one is better for you in 2021. Make sure to read everything to understand who wins the battle "IPTV vs. Cable TV"!
What is IPTV?
IPTV stands for Internet Protocol Television. It's essentially receiving TV from IP networks. This format gives the user more freedom. IPTV allows you to have more freedom in what you want to watch. IPTV also has the video on demand feature, which allows the users to access libraries of movies and shows anytime they want. There's a whole intricate network system and servers that make that possible. We will not go through those details because they are not necessary for the comparison.
Check out this blog on how IPTV works to understand more details about this subject.
Unlike the other methods of broadcasting TV, such as cable, IPTV allows for interaction between you and the broadcaster. You can choose what you want to watch most of the time.
The cable method of broadcasting TV relies on traditional coaxial cables to transfer RF signals that have audiovisual data, channels, and broadcasts.
New technology has allowed cable TV to evolve. Nowadays, cable companies use fiber optic cables to transmit light pulses that have audiovisual content.
Comparison between the services of IPTV and Cable TV
In this section we will start our comparison, so we can decide which one wins the IPTV vs. Cable TV battle.
Set-Up
IPTV
IPTV is pretty easy to set up. The method is very simple. You just download the IPTV app and use the internet to receive your TV content. There's no need for technicians to come or install anything. As long as you have fast internet available in your place, a compatible device, and a paid IPTV subscription, you can enjoy your TV experience.
Here's how to install IPTV.  
Cable
Cable TV, on the other hand, requires a technician to come to your place to setup and install the service.  You also need a cable box. The technician usually brings the cable box with him.
Ease of use
Both IPTV and Cable TV are easy to use. The main reason is simple. The more it's easy to use the more people who buy it. This is a principle that has been used on TV ever since it started.
You just take the remote control and you can easily figure out how to navigate through the options and channels.
However, with IPTV there are more options to choose from like video on demand.
Quality of images
IPTV
IPTV uses MPEG-4 standard format to display the video content. This format is similar to streaming, so it's great quality. HD content is compressed so that it doesn't take a lot of time to load. And the images are crisp clear. However, there's one drawback, which is the bad quality when the internet is slow. With IPTV, you have to make sure that your internet is fast enough to meet the minimum requirements.
Cable TV
Cable TV boasts great quality because fiber optics allow transmitting data quickly. The high quality of cable TV is one of its best aspects.
Accessibility to Channels
IPTV
When it comes to channel accessibility, IPTV is your best choice. With IPTV, you can choose the list of channels you want to watch, and the broadcaster will provide you with them. You will be able to choose worldwide channels and pick up only the ones you want to watch.
Cable TV
Cable doesn't have the option of providing you with only the channels you want. You get a huge list of channels that you don't ever watch. However, if you're a person that likes zapping and novelty, you might enjoy that.
Prices
IPTV
Apparently, IPTV is a lot cheaper than Cable TV. Even if you customize your services, the price won't be as high as with Cable. Check out the prices of these IPTV subscription services to understand. The twelve-month subscriptions are very affordable and they're a great solution for sports fans who follow the seasons.
Features and Control
The features of IPTV include time-shifting; video recording, video and music on demand and Start over TV. With the advancement of software and hardware technologies, more features will be added to IPTV.
Cable TV
Unfortunately, cable TV is limited in the features it offers. You cannot have video on demand and start over TV on cable.
IPTV VS. CABLE TV, Who wins the battle?
It is obvious from the comparison that IPTV is more versatile and accessible. It seems that the only audience of cable TV is the old generation who grew up using it. They got used to it and won't change it for IPTV.
IPTV is the future of TV broadcasting, and many service providers are shifting to it. Many cable TV providers are now offering IPTV as well, which means that in the future everything is going to be broadcasted through the IPTV channel.
Checkout our IPTV blog for more info. And please contact us if you need help or want to know more about IPTV subscriptions.